Leading Paediatric Hypnotherapist Reveals 23 Things You Must Know To Work Effectively With Children
Everyone thinks they can relate to children, but to be effective as a hypnotherapist working with children you need to understand the 23 statements below. When you do, you will open up a whole new revenue stream that is, as yet, completely untapped and enormous in size.
Further, you'll be able to enjoy the reward that comes from knowing that you're making a real difference in the lives of children by helping them overcome difficulties that might otherwise ruin their lives for years to come.
That's why Paul White has put together the training programme that is at the foundation of the TISPH, which is specifically designed for qualified hypnotherapists who want to work with children.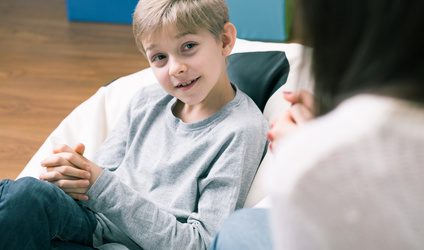 In this breakthrough online training, you'll learn:
The magic "children friendly" questions that help you quickly get to the heart of the problem (and why asking a child their name and address is a vital starting point to therapy)
The one thing you must NEVER help children to do (even if the parents beg you)
The tell-tale signs that a child is at risk of suicide, and your responsibilities if you have concerns over the welfare of a child or others
The "negotiator" question that can pave the way for change (sometimes in just one session)
One thing you absolutely must do if you want to be eligible for referrals from doctors (without this, a doctor is barred from telling patients about you by their insurance)
When it is better to see a child alone, and how to protect yourself from false claims
How to tell when a parent is part of the problem and when they can be a useful part of the solution
The number one problem that children suffer, and how to deal with it effectively (you'll also discover the trends in children's problems, so you know exactly how to market yourself).
How to understand the fears and mindset of parents so that by the time they call you, you'll be their natural choice
The impact of social media on mental health, and how it affects children
Why recording your sessions may not provide you the level of protection you think
The simple test that will stop you getting entangled in parental disputes or giving treatment without valid parental permission
The one thing you absolutely must do when you retire
The awkward thing that children often do after a session (which adults almost NEVER do), and how to prepare yourself for when it happens
Your responsibilities if a child asks you to keep something confidential from their parents
How to explain the benefits of hypnotherapy to parents in a way that makes treatment more effective
How to explain hypnosis in a way that even the youngest children can understand (and how to adapt your inductions to suit children as young as four)
Why it's even more important to mind your language with children than with adults (hint: this has absolutely nothing to do with swearing)
The common mistake that can make your consent form legally worthless, even if it is signed. (You'll be surprised how many hypnotherapists make this mistake, thinking they are giving themselves extra protection)
How children respond differently to adults under hypnosis (and how to handle children who are reluctant to close their eyes)
The "warning signs" that suggest conflict between what the parent wants and what child wants (and how to avoid creating even more problems for the child)
The simple question that helps you quickly understand the family dynamic without upsetting children or making them feel disloyal
The "one word" game that delivers outstanding insights and saves hours of questioning
And much more…
This online training consists of 19 modules of live video recorded material, which covers everything you need to know in order to work with children. The modules cover:
Module 1 – The Market
Module 2 – Media Trends
Module 3 – Ethical Framework
Module 4 – Code of Conduct
Module 5 – Therapist's Concerns
Module 6 – Indicators
Module 7 – Communication
Module 8 – Child Development Theory
Module 9 – Parents
Module 10 – Special Children's Questions
Module 11 – Caveats
Module 12 – Psychosomatic Problems
Module 13 – The Setup
Module 14 – Therapist Decisions
Modules 15-19 – Specific Children's Issues
Online Certification Exam
There are no time limits, so you can start this online course any time and work your way through the training material at your own pace, from the comfort of your home.
Upon completion of the course assessment, and subject to valid qualifications and insurance
You'll be awarded the designation of
DIP HYP (PAEDIATRICS)
and granted membership of TISPH.
This gives you a listing in our register of qualified paediatric practitioners and access to our library of scripts and other materials to help you in practice.
The training is recognised as continuing professional education by leading Hypnotherapy professional associations worldwide, so you can use the certificate towards your annual hypnotherapy CPD/CEU requirements.
The course comes with a 60 day money back guarantee, which means you can join our growing community totally risk free.
Here's What Graduates Say About Our Training
---
4.7 out of 5 stars (39 ratings)
---
Dealing with our youngsters in this digital age.

  

Joanne Waine

 on June 24, 2016 at 11:23:10

I really enjoyed this course and found it to be very informative and updating to cover the pressures of this social media and digital age. Thank you very much and I would be happy to hear about further courses and recommend hypnotherapists of all experience would benefit from attending this course, thank you for such a professional presentation and contents.
---
Training at its Best

  

Trevor Hoskisson

 on June 24, 2016 at 04:07:07

This was one of the most comprehensive courses I have attended. The course covered just about everything you need to know when working with children and the resource pack vastly exceeded my expectations. I have already recommended the course to many of my colleagues.
---
Everything that I wanted from the day....

  

Richard Smith

 on June 22, 2016 at 21:22:29

An informative and well structured day. The pace was good and the afternoon mindfulness meditation very relaxing! Thank you for giving me such a toolkit to help more people.
---
First class masterclass in paediatric hypnotherapy

  

Bernadette Main

 on June 21, 2016 at 08:59:18

An excellent course covering a wide range of issues relating to children and teenagers and incorporating a comprehensive toolkit of hypnotherapy techniques tailored to young people. Suitable for both newly qualified and experienced practitioners. Great resource pack included as part of the course. Excellent value for money and highly recommended.
---
Brilliant!

  

Stella Rodgers

 on June 21, 2016 at 07:33:18

A very clear, structured and comprehensive approach to understanding and working with children. The resources you get with the course are invaluable. I have enjoyed the course and would happily recommend it.
---
Clinical hypnotherapy with children

  

Julia King

 on June 21, 2016 at 04:38:04

Delighted to attend this excellent cause. At last we have an opportunity to learn more about using our clinical skills with children in an appropriate and ethical manner.
---
Outstanding Course delivering a very comprehensive package of information and techniques

  

Keith Davies-evans

 on June 20, 2016 at 22:19:26

I was absolutely delighted and very impressed with both the quality of the content and outstanding presentation of the Paediatric Hypnotherapy Masterclass and introduction to Mindfulness. It was the one area that previously I had no experience with and always felt I would be out of my depth, and so up until now I have avoided it. I started the course with very little idea on how I would tackle the task and ended up feeling very confident that I could handle it comfortably now. I certainly would recommend this course to anyone wanting to be able to work with children but not feeling competent to do so.
---
Excellent course for anyone interested in working with children and adolescents.

  

Wendy Hughes

 on June 20, 2016 at 22:13:57

An interesting, informative and thought provoking day, which I thoroughly enjoyed and highly recommend to anyone interested in working with children and adolescents. The inclusion of Mindfulness and how it can be used with children was something completely new to me and has opened up a new door. Thank you Paul, the course has made me feel better equipped and more confident to work with young people and the extensive resources are invaluable.
---
Verified Client

Enjoyable

  

TW

 on April 11, 2018 at 20:21:00

Enjoyed course. Audio wasn't clear at times. Would have been nice to hear what other people were saying but otherwise was informative. Exam questions were vague at times.
---
Verified Client

Highly Recommended

  

CJ Clark

 on February 04, 2018 at 00:10:28

This course was a very different way of learning for me but thoroughly enjoyable. The information is very clear and well presented and resources are very welcome addition.
---
Verified Client

Valuable resource

  

Margaret R Gibson

 on December 22, 2017 at 14:29:06

Comprehensive course. Course notes and final exam language was ambiguous in places . Exceptional circumstances relating to Parental law responsibilities Made answering questions uncertain for me. Questions asked by the attending group could not be heard on video. Valuable resource useful as a sound basis for further development.
---
Verified Client

Excellent course for working with children

  

Trish Marin

 on November 15, 2017 at 18:15:17

Excellent course which covers all the bases for working with children, with many useful tips and comprehensive resources.
---
Verified Client

Informative.

  

Ms Miller

 on October 31, 2017 at 15:58:27

Comprehensive course with lots of ideas on working with children. Much needed, even though I am a qualified hypnotherapist and have (in my previous career) worked in the Education system for 17 years. Well structured and delivered. Thank you : )
---
Verified Client

Interesting and Informative

  

Julia Holmes

 on October 02, 2017 at 01:33:25

A very comprehensive training course. I felt very confident to pursue working with children from this.
---
Verified Client

A good, comprehensive course. Worth doing.

  

Jason S

 on September 24, 2017 at 12:40:11

A very good course. Goes into a lot of detail, and I found that watching the videos a number of times was helpful as I often picked up nuggets of information I had missed first time around. The course covered sufficient ground that by the end I felt very well prepared to start using the skills live. Also worth looking at the suggested reading as this reinforces and expands on the video training.
---
Verified Client

Easy to follow course

  

Alex White

 on September 18, 2017 at 18:21:21

Easy to follow course and I liked that I could go back to it as many times as I wished.
---
Verified Client

Good value with some excellent content

  

Darren Jones

 on September 18, 2017 at 15:11:08

I though the course was very educational. Set out in a clear and concise manner. The slides were useful.
---
The course provides valuable insight into working with children.

  

Kris Jones

 on June 21, 2017 at 21:11:55

I enjoyed the course and I liked Paul's style of teaching, with the inclusion of a number of interesting anecdotes. I am sure the scripts will be very helpful. I would probably give the course a rating of 5 stars if accompanying notes were provided, and I believe this is intended sometime in the future. Some suggestions for additional reading would also be helpful.
---
Paediatric Hypnotherapy Masterclass

  

Howard Ratcliffe

 on June 13, 2017 at 10:25:06

Interesting and well planned course . thank you
---
Excellent

  

Natalie Kynoch

 on March 07, 2017 at 22:27:50

A very comprehensive course, covering the A to Z of using hypnotherapy with children. I would definitely recommend the course.
---
Invaluable information

  

Karen Finch-civico

 on March 04, 2017 at 22:13:58

Easy to watch, easy to follow and very informative. Case study examples are helpful and the slides in particular are comprehensive.
---
Highly Recommended.

  

Andy Cox

 on January 11, 2017 at 12:25:29

Great course, really impressed. Paul's teaching style is engaging (as always) and support material was great. Informative and enjoyable.
---
A concise, well put together content rich course

  

Olessya Burgess

 on December 28, 2016 at 09:51:24

A comprehensive, well composed and content rich course that is a must have practical tool for those who work with children and young adolescents. The online presentation is well structured and modules are easy to follow. I would recommend your course to my colleagues. Thank you.
---
Working with children in a more effective way.

  

Joanne Waine

 on July 31, 2016 at 07:08:02

A well designed and comprehensive course displaying an understanding and examples of working with children in a successful way. The accompanying manual will be invaluable. I fully recommend this course as I thoroughly enjoyed the day. Thank you
---
Great Masterclass

  

Bob Bees

 on July 14, 2016 at 06:16:47

An excellent detailed Masterclass which covered every aspect of working with children and also included the presentation notes and scripts.
---
Great course, thank you

  

Hannah Kane

 on July 07, 2016 at 12:58:06

Great resources, the afternoon was much more useful, I like all of the case study examples and fantastic script ideas, thank you!
---
Hypnotherapy (paediatrics)

  

Sandra Toyer

 on June 27, 2016 at 14:26:55

Travelled down from Scotland and felt the course was well worth the effort. I would have preferred more in depth anecdotal evidence/stories into process of the hypnotherapy used. ie case study from start to end of process. Time spent on ethics etc may have been condensed as I presumed most people who are practicing would already know However, really glad I came
---
'Every Child Matters' - Paediatric Hypnotherapy Masterclass - the way ahead.

  

Joanne Carpenter

 on June 27, 2016 at 09:43:08

An outstanding course for all those who are passionate about ensuring the safety and care of children. The course leaders demonstrated high class professionalism throughout and ready to share and listen to deligates who want to improve their own practice. course materials and support materials excellent.
---
A useful and enjoyable day

  

Louise Oliver

 on June 27, 2016 at 07:24:36

Lots fitted into one day. Some very useful, practical tips which have prepared me well to work with children and young people. Thank you.
---
Review

  

Victoria Beverley

 on June 27, 2016 at 06:54:22

Excellent course and very well organised
---
Excellent delivery and support notes

  

Elizabeth Tailby-faulkes

 on June 25, 2016 at 06:20:14

A very well organised course, full of highly useful information and guidance for working with children along with some invaluable anecdotal evidence.
---
A course of value

  

Nicole Wetherell

 on June 24, 2016 at 09:45:08

As a practising Hypnotherapist I found this course to be insightful and comprehensive. It was very well structured and provided invaluable information for working with children.
---
Great day

  

Clare Gilsenan

 on June 24, 2016 at 04:38:57

Excellent day filled with practical suggestions and very well facilitated.. A great way to start the journey of working with children.
---
Well worth doing

  

Tina Wilson

 on June 23, 2016 at 17:31:46

I really learnt a lot from attending this day course. Paul has a very enjoyable lecturing style and there was a lot of information and thought triggering discussion. I also enjoyed meeting other hypnotherapists and as a recently qualified hypnotherapist, gaining idea's and methods of approach which are new to me. The resources gained will also be very valuable in my future work with children. Thank you very much
---
Paediatric Hypnotherapy Masterclass

  

Jacqueline Dennaford

 on June 22, 2016 at 08:32:14

An outline of the challenges and benefits of working with children. A consolidation for experienced practitioners to understand specific guidelines and regulations to ensure association requirements are met.
---
Paediatric Hypnotherapy Masterclass lived up to its title (Masterclass)

  

Alan Butler

 on June 21, 2016 at 13:11:42

It was a brilliant course from start to finish. As I said on my feedback form, the first class I have not fallen asleep in, even after only 4 hours sleep. The course content was relevant and put me at ease with wanting to work with children. The folder which goes with the course has some fantastic scripts/language patterns and all have been cross referenced with problems that the children have so it makes it easier to know what script will work with what problem. I highly recommend the course. I drove all the way from Swansea and stayed the night before, so the distance shouldn't really be a factor in you attending such a course. I couldn't praise the course, venue and institute enough 10/10....
---
Well structured, practical and enjoyable training.

  

Natalie Dean

 on June 21, 2016 at 12:20:34

I was pleased that the course provided practical information and techniques that Therapists could use with young clients. I thought the hour on mindfulness interesting and it gave the day some variation. The presentations were clear, precise and stayed on track. Everything explained was valuable and interesting information. We well timed breaks gave people a chance to have discussions with the speakers, so that in the sessions we were not over run with questions and side tracked. Well structured training which enabled us to get the most out of the day. Always enjoyable training with the SICH!
---
A Worthwhile Day of Learning

  

Sunni Coupe

 on June 21, 2016 at 10:16:46

Paul White held our attention for over six hours! Quite remarkable, he kept us interested, informed and amused- no mean task. The provided course literature was invaluable for future reference and learning. The inclusion of the Mindfullness Taster was a great idea and opened another door. I would certainly attend another course run by the Surrey Insitute as I found it professional and good value for the fee charged. Many Thanks
---
CPD At Its Best

  

Christopher Pearson

 on June 20, 2016 at 22:06:22

This was a well-planned day providing useful background and theory alonside useful practical information. Presented by experienced and obviously skilled practitioners this represents excellent CPD for working professionals wishing to initiate or improve paediatric therapy in their practice.
---