Leading Paediatric Hypnotherapist Lists The 23 Things You Need To Know To Work Effectively With Children
Everyone thinks they can relate to children, but to be effective as a hypnotherapist working with children you need to understand the 23 statements below. When you do, you will open up a whole new revenue stream that is, as yet, completely untapped and enormous in size. Further, you'll be able to enjoy the reward that comes from knowing that you're making a real difference in the lives of children by helping them overcome difficulties that might otherwise ruin their lives for years to come.
That's why Paul White has put together the training programme that is at the foundation of the TISPH, which is specifically designed for qualified hypnotherapists who want to work with children.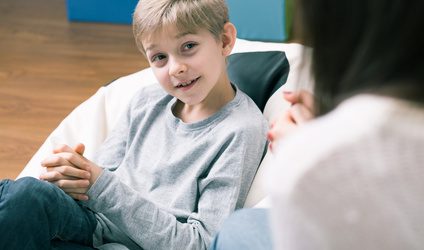 In this breakthrough online training, you'll learn:
The magic "children friendly" questions that help you quickly get to the heart of the problem (and why asking a child their name and address is a vital starting point to therapy)
The one thing you must NEVER help children to do (even if the parents beg you)
The tell-tale signs that a child is at risk of suicide, and your responsibilities if you have concerns over the welfare of a child or others
The "negotiator" question that can pave the way for change (sometimes in just one session)
One thing you absolutely must do if you want to be eligible for referrals from doctors (without this, a doctor is barred from telling patients about you by their insurance)
When it is better to see a child alone, and how to protect yourself from false claims
How to tell when a parent is part of the problem and when they can be a useful part of the solution
The number one problem that children suffer, and how to deal with it effectively (you'll also discover the trends in children's problems, so you know exactly how to market yourself).
How to understand the fears and mindset of parents so that by the time they call you, you'll be their natural choice
The impact of social media on mental health, and how it affects children
Why recording your sessions may not provide you the level of protection you think
The simple test that will stop you getting entangled in parental disputes or giving treatment without valid parental permission
The one thing you absolutely must do when you retire
The awkward thing that children often do after a session (which adults almost NEVER do), and how to prepare yourself for when it happens
Your responsibilities if a child asks you to keep something confidential from their parents
How to explain the benefits of hypnotherapy to parents in a way that makes treatment more effective
How to explain hypnosis in a way that even the youngest children can understand (and how to adapt your inductions to suit children as young as four)
Why it's even more important to mind your language with children than with adults (hint: this has absolutely nothing to do with swearing)
The common mistake that can make your consent form legally worthless, even if it is signed. (You'll be surprised how many hypnotherapists make this mistake, thinking they are giving themselves extra protection)
How children respond differently to adults under hypnosis (and how to handle children who are reluctant to close their eyes)
The "warning signs" that suggest conflict between what the parent wants and what child wants (and how to avoid creating even more problems for the child)
The simple question that helps you quickly understand the family dynamic without upsetting children or making them feel disloyal
The "one word" game that delivers outstanding insights and saves hours of questioning
The training is completed online, from the comfort of your home, and it starts as soon as you register.
There are no time limits, so you can work your way through the live recorded material at your own pace, and in your own time.
Upon completion of the course assessment, and subject to valid qualifications and insurance
You'll be awarded the designation of
DIP HYP (PAEDIATRICS)
and granted membership of TISPH.
This gives you a listing in our register of qualified paediatric practitioners and access to our library of scripts and other materials to help you in practice.
The training is recognised as continuing professional education by leading Hypnotherapy professional associations worldwide, so you can use the certificate towards your annual hypnotherapy CPD/CEU requirements.
The course comes with a 60 day money back guarantee, which means you can join our growing community totally risk free.
Here's What Graduates Say About Our Training